Coat of arms
Canadian Heraldic Authority
Symbolism of the Armorial Bearings of Athabasca University
Check out the coat of arms interview on AU's "The Unofficial Landing Podcast" or listen/download directly.
On August 15, 2011, Athabasca University received official armorial bearings by the Canadian Heraldic Authority, which is headed by the Governor General of Canada. Starting with a wide-reaching institutional consultation phase, we asked questions such as; what animal, flora, fauna symbols would best represent AU. Thus started the application process, which resulted in a coat of arms being granted to AU.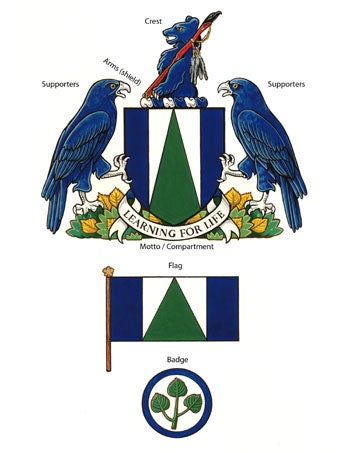 Arms
Blue and green are the colours of the university. The central white section, known as a Canadian pale, is taken from the National Flag of Canada, and here represents an open gate, thus symbolizing Athabasca University's commitment to accessibility in education. The green triangle represents a spruce tree and, by extension, the region of northern Alberta. It also alludes to the letter A and to the idea of striving upwards.
Crest
Located at the top on the crest section, the bear is a local animal, courageous and at the same time nurturing. The bear represents the west as well as wisdom and knowledge and is a significant spirit helper in Woodland Cree culture. The bear is holding the Athabasca University mace, which represents the authority of the university itself.
Motto
AU's motto—Learning for Life—is prominently displayed beneath the shield in the compartment section of the coat of arms, which is represented as poplar leaves, another Athabasca and central Alberta regional reference.
Supporters
The supporters on either side of the shield are depicted as eagles or hawks, which are also represented in the AU mace. Eagles symbolize strength and prowess and are known for their wisdom.
Flag and badge
The badge and flag are intended for use as alternative symbols separate from the coat of arms. They are simple symbols associated with the coat of arms but intended for use as separate symbols.
The flag is a banner/depiction of the arms arranged as a rectangular flag.
The badge, resembling a globe is emblematic of the global reach of distance learning. The poplar branch repeats the reference made by the leaves shown at the feet of the supporters.
Taken as a whole, the coat of arms represents Athabasca University on several levels: symbolizing our geographic northern/central Alberta location, our strength, openness, tradition, history and wisdom.
While the Heraldry office does encourage widespread usage of the coat of arms, it does not replace the existing AU logo. Guidelines for usage are in development.
Updated June 29, 2023 by Digital & Web Operations (web_services@athabascau.ca)