---
Accounts in myAU
You will need an account (a student ID number and password) in order to access myAU.
Logging In
Go to my.athabascau.ca, or click the "MyAU" link at the top of most pages of the AU website.
Click the "Log-in" button (if you are already logged in, this button will not be displayed).
Enter your student ID and password. If this is the first time you are logging in to MyAU, your password will be your birth date in YYYYMMDD format (for example, July 23, 1986 would be 19860723). You will then be prompted to reset your password.
If you have logged in to MyAU before or have successfully reset your password, your MyAU home page will be displayed.
Forgotten passwords
Go to the myAU login area.
Choose "Forgot your student password".
Enter your student ID, full name and birth date.
If you are an inactive student (you have not registered in an AU course within 12 months of the completion date, the contract date or the date of withdrawal from your last course):
You must become an active student by using the Reactivation procedure. You will then set up a password and challenge response.
Passwords
You will need an account (a student ID number and password) in order to log in and have access to myAU. If you need an account please refer to Accounts in myAU.
By default your initial password is set to your birth date (YYYYMMDD). This is also the case if your password has been reset by AU staff. Otherwise, it is whatever you created when you last changed your password.
For your protection we ask you to verify your name and birth date and to answer your Challenge Question before you may change your password. New passwords must be 6 or more characters long and may not contain spaces. When you change your password you will need to fill in a Challenge Question and answer. We have two example questions and you may enter one of these or enter your own. It is important to use a question to which the answer will not change. For example, "What is my mother's maiden name?" is a good question because your mother's maiden name will not change. However, "What is my favorite color?" or "What is my age?" are not good questions because the answer could change over time.
Password and the answer to you Challenge Question are case sensitive.
Browser Compatibility with myAU
It appears that you are using Safari
SUPPORT LEVEL
Browser
Version
Full
Partial
No
Internet Explorer
11
X
10 and below
X
Edge
X
Firefox
60+
X
59 and below
X
Webkit (Safari, Safari mobile, Chrome, etc)
Latest stable version
X
Opera
55 and above
X
54 and below
X
Mozilla
All versions
X
Netscape
All versions
X
All others
X
Full support - All web pages render correctly and all functionality in online applications works.
Partial support - Most page webs are readable but may not render correctly and most core functionality in online applications works but this is not guaranteed.
No support - Pages and online applications may or may not work.
Note: Netscape 4.7 functions correctly, but displays on the screen poorly. You will need to scroll to the right-hand side to see the logout button.
Conduct
There are rules regarding behaviour on this site. For example, in public discussion groups, things such as rudeness, profanity and disrespect will not be tolerated. You will be accountable for your actions. Please read the non-academic misconduct policy found at: http://ous.athabascau.ca/policy/registry/nonacademicmisconduct.pdf
How to use myAU
What to Expect
Depending on your account (your unique student ID and password), when you log in to myAU, you will see a series of tabs arranged horizontally across your screen. Different individuals (accounts) will see a different series of tabs displayed. For example, if you are a graduate of AU, you will have an additional alumni tab.
Components of myAU
Tabs
If you think of the portal as a book, a tab is like a page in the book. The tabs are lined up horizontally across the top of the web page. Different individuals (accounts) will see a different series of tabs displayed.

Channels
A channel is a "chunk" of information within a tab. The channel is like a paragraph on a page.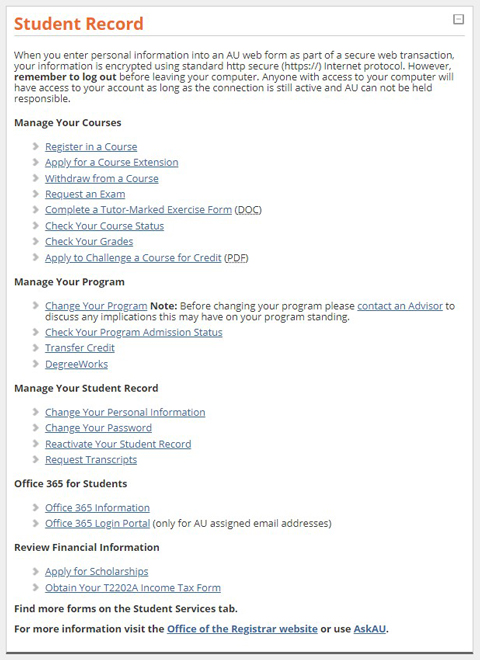 Icons
The channels have some small, square icons. To know what they mean, roll your mouse over them. In most browsers, you will see a yellow box with a description of the icon.
By clicking on minimize, you will collapse the channel into a smaller format. If you log out of the portal after minimizing channels, the portal will remember. The next time you log in, the channel will remain minimized.

By clicking on maximize, you will make the channel bigger. If a channel is in the "collapsed" state, you can click on the maximize icon to read the content under the green line.

Links
When you click on a link to a web page that exists outside of myAU, a new browser page will open. This ensures that you don't lose your current page or leave the portal until you are ready. To close a new browser window, click on the X at the top right-hand side of the browser window or use the keyboard method [ctrl] + [w].
At times, the content contained within a linked webpage may require a third-party utility to access the information.
To view and print files in portable document format (PDF), you will require a copy of Adobe Acrobat Reader. To download a free copy, please navigate to www.adobe.com/support/downloads/main.html
To view and print Microsoft Word files (DOC), you will require a copy of Microsoft Word, or you can download a reader from Microsoft by navigating to https://www.microsoft.com/en-ca/p/doc-viewer/9n69kfjds28z#activetab=pivot:overviewtab
Privacy
Athabasca University is committed to providing you with websites that respect your privacy. Please read the Privacy Statement about conditions of use and privacy on AU's websites. Any personal information you provide voluntarily to Athabasca University through this portal (myAU) will be used only for the purpose for which it was collected. We have in place reasonable processes and procedures to keep this personal information safe and secure.

When you enter personal information into an AU web form as part of a secure web transaction (i.e. admission, course registration), your information is encrypted using standard http secure (https://) Internet protocol. However, remember to log out before leaving your computer. Anyone with access to your computer will have access to your account as long as the connection is still active.
Be wary of any program or web page that asks you for your account information (student ID number and password). Web pages that ask you for your account information will generally have URLs that begin with "http://somename.athabascau.ca."
---
Student & Academic Services - Last Updated June 19, 2019