At Athabasca University, we believe everyone should have equal, open access to education. We've made it our mission to remove the barriers that can limit access to post-secondary achievement, so we admit undergraduate students regardless of
location
age
income
culture
work and family responsibilities
previous educational background or achievements
All you need is to be 16 or older. No other conditions apply.
We are proud to be an open university, focused on the future of learning.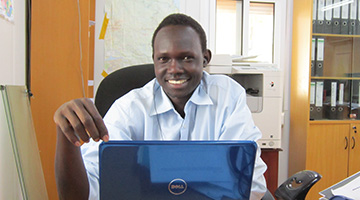 "Now I'm in a position where I can help my country, where I can contribute to its development, because of my education."
~ Abraham Nhail Wei, studying in South Sudan
Bachelor of Professional Arts in Communication Studies
Read Abraham's story
Updated February 26 2016 by Web Strategy, Advancement
Become an AU Student
Register by June 10th to start on July 1st
Request Information
Thank you for reaching out to us!
An email has been sent to your inbox asking you to confirm subscription.