Athabasca University has year-round continuous admission for all our undergraduate programs. There are no application deadlines – apply when you're ready and begin when you're ready.
Like a traditional university, you will need to complete a certain number of credits, including specific courses, to earn your AU certificate, diploma or degree. Some courses also have prerequisites that must be completed before you can take that course.
Program regulations and program plans
Your program regulations are the requirements you need to meet in order to complete your AU credential. As long as you are an active student, you will follow the program regulations in place at the time you enrolled.
AU has developed program plans to help you keep track of the courses you've completed and those still to come. Our academic advisors are also available to help you choose your courses.
Time limits
AU's flexible format means you can take your courses on your schedule. Complete your program as quickly as you'd like, or as slowly as you need to. Megan Fertig powered through her degree in less than 3 years. Read Megan's story.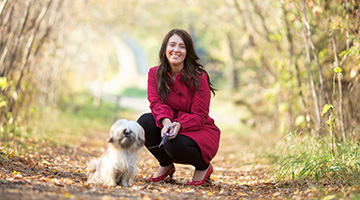 "I wouldn't be where I am today if I didn't have my degree, and now I feel like I can accomplish anything."
~ Megan Fertig,
Bachelor of Professional Arts in Human Services
Most AU programs are open-ended and give you as much time as you need to finish, but some do need you to complete your requirements in a specified time frame. Completion time limits vary depending on the program.
If time limits exist, they will be listed in the program regulations. You decide how long it will take to complete your credential within that range.
Updated February 09 2016 by Web Strategy, Advancement
Become an AU Student
Register by June 10th to start on July 1st
Request Information
Thank you for reaching out to us!
An email has been sent to your inbox asking you to confirm subscription.