Having a full-time job or family responsibilities shouldn't mean that your schooling has to end. Studying online with AU means you can get a quality education that fits your life.
Courses start every month
Why wait until September to start your education? With undergraduate courses starting on the first of every month, we're ready when you are.
You can apply anytime – and once you've completed the application process you can register for a course immediately.
Next deadline: register by June 10th to start July 1st.
You set the pace
Take one course at a time, or pursue a full-time program. The choice is yours. You have 6 months to complete a 3-credit course, and 1 year to complete a 6-credit course. If life gets in the way, you can buy course extensions to give you a bit of extra time.
Get your degree, diploma or certificate part-time, online, anywhere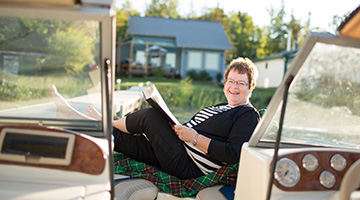 "With the Bachelor of Nursing, I was able to earn my degree at home, with my family, on vacation… It was amazing."
~ Kathleen Soltys,
Bachelor of Nursing, Master of Health Studies
Study when and where it suits you. With AU, your campus is wherever in the world you want it to be – at your kitchen table before the kids get up or at a coffee shop in the evening. You can even take us on vacation with you like Kathleen Soltys did when she was working on her degrees. Read Kathleen's story.
Updated February 09 2016 by Web Strategy, Advancement
Become an AU Student
Register by June 10th to start on July 1st
Request Information
Thank you for reaching out to us!
An email has been sent to your inbox asking you to confirm subscription.