Distance Education Success
Distance education gives you the flexibility to study at your own pace and set your own schedule – but it also requires motivation, commitment and perseverance.
You will have to make time in your schedule for 10-15 hours of study a week, per course. You may want to increase this time if
you want to complete the course in less time
it's a particularly difficult course
you wish to excel
To succeed in distance education, you must be prepared. You'll need dedication, organization and focus. If you have a family, you'll also need their support to help you keep your life in balance and your studies in check. Read Greg's story.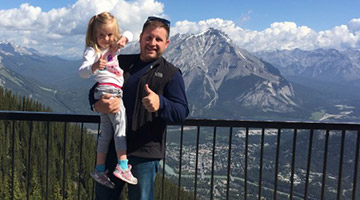 "I can't thank my mom enough. Helping me out and showing a lot of patience and understanding and really allowing me to work late into the evenings on this — particularly with the research, it's so difficult."
~ Greg Toffner,
Master of Health Studies
Check your knowledge
Relatively few students come to Athabasca University straight out of high school. If you've been away from formal learning for a while, you may want to see if you're prepared for a university-level course. Take a subject-based assessment test and find out about the preparatory courses AU offers on our Am I ready for studies in... page.
Updated March 29 2016 by Web Strategy, Advancement
Become an AU Student
Register by June 10th to start on July 1st
Request Information
Thank you for reaching out to us!
An email has been sent to your inbox asking you to confirm subscription.